Looking for a WordPress table plugin to display your data?
The WordPress Table Plugin allows you to save and view your data in a table format to make it easier for your visitors to read.
This article introduces some of the best WordPress table plugins you can use to display your data.
Why Use a WordPress Table Plugin:
Tables are a great way to display large datasets in an easy-to-read format. You can use tables to share the original data, view price comparisons, create web directories, and more.
WordPress has a default feature that allows you to add tables to posts and pages, but it has limitations and doesn't offer many style options.
WordPress Table Plugin gives you access to additional features such as a drag-and-drop table builder, advanced sorting options, and full color and style control.
Creating attractive and interactive tables makes it easier to attract visitors and spend more time on your WordPress website.
Still, let's take a look at some of the best WordPress table plugins to use on your WordPress site.
Best WordPress Table Plugins:
1.TablePress:
TablePress is one of WordPress's most popular table plugins. With it, you can easily create beautiful tables without code.
If you are already using Excel, you can use this plugin to get around immediately. The procedure for adding data is the same as adding data to a table.
In addition to manually adding data, you can import and export spreadsheets in Excel, HTML, CSV, and JSON formats. This makes it easy to migrate tables from another plugin.
It also comes with a unique feature that makes the table more interactive. Users can work with the table using pagination, filtering, sorting, and more.
2. WP Data Tables:
wpDataTables is a premium table plugin that allows you to quickly add tables to WordPress. It comes with its own table builder that allows you to create visually appealing tables without writing any code.
You`ll find features that let you merge cells, add star ratings, give each cell a different style, add shortcodes to each cell, and more.
Once you activate the plugin, there`s a wizard that will walk you through the steps of creating your first chart. You can enter your data directly into the table, or import data from a CSV or Excel spreadsheet, XML file, PHP, and more.
To display your table, you can use the included Gutenberg block, shortcode, or a supported page builder.
3. Formidable Forms:
Formidable Forms is one of the most advanced form builder plugins. It also has features that make it a powerful tool for creating tables.
Basically, plugins allow you to create forms, collect data, and use that data to create and display tables.
You can choose from several different styles for the table and fully customize it to suit your website design. You can also use the table builder to add sorting, filtering, pagination, and more.
Formidable Forms allows you to retrieve data from existing forms so that the table is automatically updated when new data becomes available.
This makes it ideal for real estate websites, business directories, classified ads, and more.
4. Data Tables Generator by Supsystic:
Data Tables Generator is a flexible table plugin for users who need to create different types of tables.
Sorting and searching are supported to display all kinds of data and media in tables.
Like Excel and other spreadsheet programs, you can also add equations and formulas to your tables.
You can also convert the data being stored in your tables into graphics, charts, and diagrams. This data visualization can help your visitors better understand your data.
There`s an option for your users to export data on the front end and download it in PDF, Excel, or CSV format.
5. Visualizer:

The visualizer is a rich and easy-to-use table and graph plugin. If you're writing a WordPress blog post and need to add both tables and charts, this can be a good choice.
You can use the plugin to create interactive tables for your website and give you complete control over your design. You can also add pagination, search, sort, scroll, etc.
If you want to edit the table directly from the post to access the data import feature, you need to upgrade to the pro version of the plugin.
6. Ninja Tables:
Ninja Tables is a great WordPress table plugin that makes it easy to create beautiful tables. This plugin has several features that allow for easier customization.
You can choose from 13 different color schemes or create your own color scheme to suit your website design.
You can also customize how your table will look on mobile, tablet, and desktop devices. All existing table options can be turned on or off with a single click.
The manual data entry process can be slow because you have to enter each column and row individually. However, there are data import options to speed this up.
If you want to add custom code, there is also a unique feature that allows you to add custom CSS and JavaScript to your table.
7. WP Table Builder: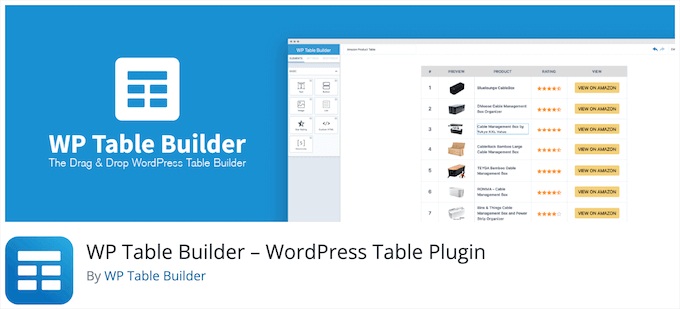 WP Table Builder is a drag-and-drop table builder that allows you to create nice-looking, fully responsive tables.
You can add text, images, lists, buttons, star ratings, shortcodes, and custom HTML.
This does more than just display the data. You can use it to create price lists, list tables, review site comparison tables, and more.
There is also a sorting feature that gives you complete control over the style of the table.
I hope this article helped you learn more about the best WordPress table plugins to store your data. You may also want to see our guide on the best blogging themes for WordPress