Are you searching for blogging themes for WordPress? In the WordPress theme store, there are a hundred of free blog themes, which makes it difficult for beginners to find a suitable theme for their blogs. As a blogger, we are here to help new bloggers to find the right blogging theme for their blogs.
In this article, we are going to share the best blogging themes for your personal and professional blogs.
Getting started with WordPress:
Before selecting blogging themes, you need to make sure that you are using the right platform. Self-hosted wordpress.org site is the perfect blogging platform to start your blogging journey because it gives you more control, flexibility, and freedom on your blog.
WordPress.org site is open-source software that supports thousands of free templates and extensions that help you to grow your blog very faster.
Once you started your blogging with WordPress, its time to find blogging themes for WordPress. Here we are presenting some hand-picked special themes for you. Find the best theme from the below list.
Choosing  free blogging themes for WordPress:
Choosing the right  free WordPress theme is most important to get the success of your blog. It's not as simple as choosing a theme that looks great in design-wise and looking cool. While you may think a theme looks great, If a WordPress is designed poorly, It affects your WordPress blog traffic and it upset your readers as well.
Instead, you need to consider a number of factors before choosing perfect blogging themes for WordPress, including
1.Responsive: Your blog needs to be mobile-friendly. Choose a responsive WordPress theme that will look great in any device.
2.Simplistic: A theme with a lot of features will slow down your blog loading time and confuse your readers. So choose a WordPress theme with simplicity in looking.
3.Reviews: If a theme with plenty of good reviews, probably it is a good choice to get it as our blogging theme. On another hand, if you found a lot of bad reviews will let you know steer clear.
Why Use WordPress? Top 10 Reasons To Use WordPress.
Have a look of free blogging themes for WordPress blog:
1.Maxwell:
Maxwell is a clean and elegant WordPress theme. It features a simple magazine-style layout with beautiful typography. It comes up with various post layouts and amazing featured posts slideshow.
2.Baskerville:
Baskerville is a contemporary and stylish WordPress theme. It features a large full-width header image followed by your posts presented as a grid on the homepage.
3.Admiral:
Admiral is a magazine-style WordPress theme which suitable for sports, news, magazine, filmy websites.
It features a three-column layout with two sidebars on both sides and a content column in the middle.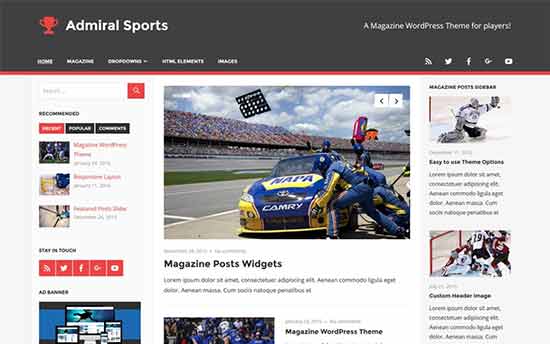 4.Hiero
Hiero is a free blogging theme for WordPress with a magazine-style layout. It uses bold colors for header and accent. It uses a two-column layout and comes with a navigation menu on top. The home page displays your latest posts with featured images.
5.Tecblogger:
Tecblogger is a simple and clean WordPress theme. It features a classic blog look with a content column and a right sidebar. It comes with a navigation menu on top and supports custom headers, custom backgrounds, and colors.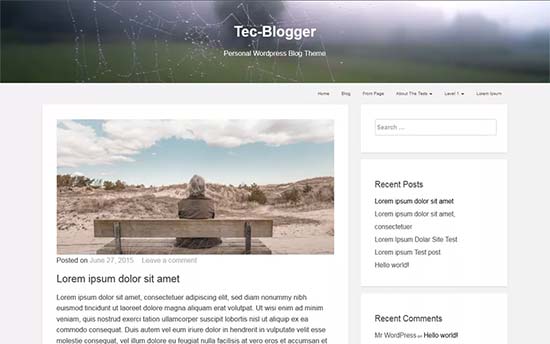 6.Magbook:
Magbook is a beautifully designed WordPress theme for content-rich websites including magazines, newspapers, blogs, and more. It features a minimalist design with multiple layout choices and a quick 1- click demo installer.
It comes with ready to use templates for contact us, gallery, magazine pages. Tested with all popular plugins, MacBooks can also be used to create an online store or a multilingual WordPress site.
7.Blogstar:
Blogstar is the best theme for you blog. It is free to download with a simple and clean layout design that can easily engage your users with its features. Blogstar allows you to display featured posts alongside the navigation menu. It is optimized for page load speed and performance.
8.Blogger Era:
Blogger Era is a free blog theme for WordPress. This is best for an online magazine, personal blogs, publishers,news sites. It has an about section for you to add an image and excerpt in the sidebar. It offers a centralized layout to post your content. This theme is fully responsive and translation ready to create a multilingual website.
9.Queens Magazine:
Queens magazine is a user-friendly and free magazine theme for bloggers and online magazines. It offers a lot of space for your content. With the 3 column layout, you can display multiple featured posts in the first fold of your blog. It comes up with custom settings for logo and tagline. Queens magazine theme offers multiple sidebars and footers to give you a layout variety.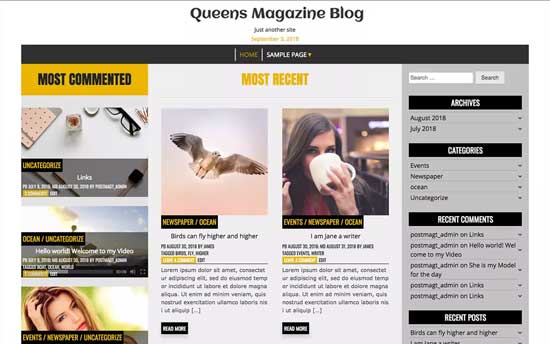 10.Balanced :
Balanced theme is a clean and responsive WordPress blog theme. It has a custom logo with a full-width header background on the top. The theme has 2 columns layout and cross style for posts. You can use the WordPress widgets in the sidebar. It is SEO Optimized and supports WPML for translations.
11.Wisteria:
Wisteria is a simple WordPress blog theme with a focus on beautiful typography and content. It comes with a custom background, custom colors, custom header, and a left sidebar.
Wisteria also has a single navigation menu on top and beautiful homepage design that allows your posts with custom excerpts and featured images.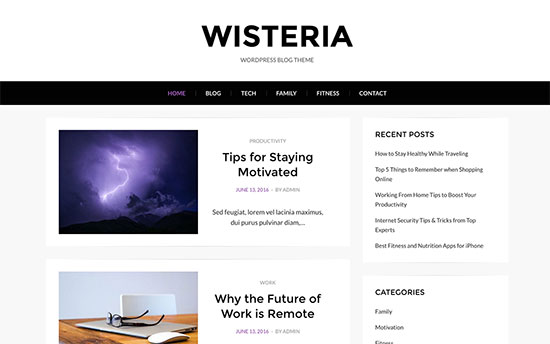 12.Bento:
Bento is the latest WordPress theme suitable for professional and business blogs. It comes with custom homepage settings and includes a full-width header image, logo support, navigation menu, and call to action buttons.
It has support for page builder plugins that help you quickly launch your WordPress blog.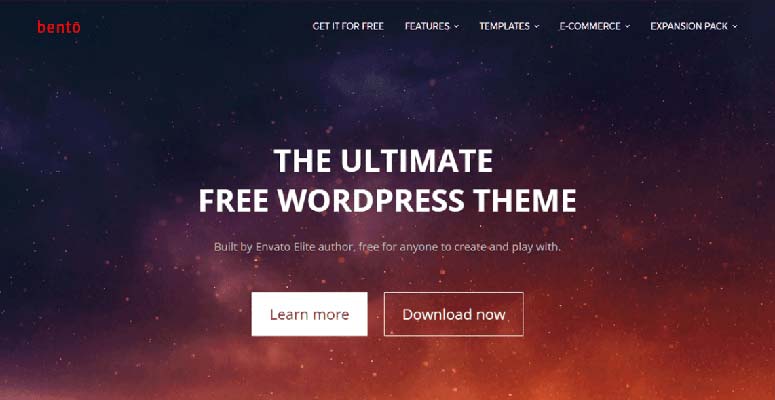 We hope this list helped you to find blogging themes for WordPress. If you liked this article, then share it with your friends on social media like Facebook, Twitter.