Not satisfied with your monthly income? Why don't you start a business?
Surprised! Of course, you can easily start one. Thinking about the cost and maintenance? Don't worry it's very easy if you start a web hosting business.
There won't be any infrastructure cost, maintenance cost or staff investment. Your reseller web host will manage all this for you.
Who is this reseller host and what is reseller hosting?
Reseller host as the name indicates is a person or a company that resells hosting services to the clients. In reseller hosting, the person or a company purchase a web hosting service from a web host and sells it to the clients as per the requirements. With this, the reseller earns a commission by selling the services at the price more than that of what he purchased.
What would you require to become a reseller?
You won't require much to become a reseller. There is a lot of best reseller hosting India providers available in the hosting industry, you just find a good web host and select the reseller plan as per your preference. Then create packages as per your client demands and start selling them to the customers at your own price. You can sell the web hosting service with your own brand name if your web host offers white label reseller hosting.
Let's dive into the review of the best white labeled reseller hosting provider – MilesWeb.
MilesWeb – The Best Web Host of India
Marked its footsteps in 2012, MilesWeb ranks as one of the best web hosts of India. Though started in Nashik, Maharashtra, India, it took no time for them to expand their presence in other countries too. Friendly customer support and high uptime are what they are popular for. Their web hosting services comprise shared, VPS, Linux reseller and Windows reseller hosting, dedicated, WordPress and cloud hosting.
Let's take a look at How to Earn Money with Reseller Hosting?
Let's check more about their reseller hosting plans.
Reseller Hosting Plans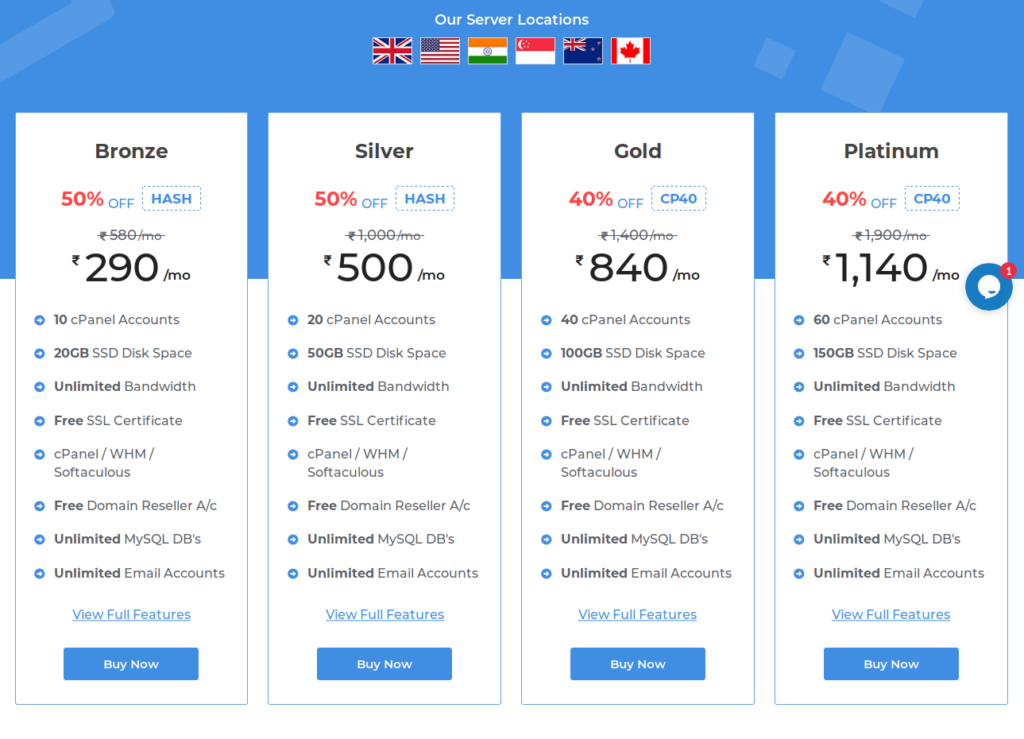 Features of Reseller Hosting
Free Migration: Want to migrate your site to MilesWeb? They are always ready to migrate your website to their server without any extra cost. Also, all your data will be migrated without any damage.
Free SSL Certificate: Secure your website with the free SSL certificate offered with the reseller hosting plans. SSL keeps your sensitive information encrypted while data is transferred over the internet. This avoids your users from getting tricked by other websites acting as the duplicate of your website.
Free Domain Reseller: You can also resell domains and earn good profit with the free domain reseller account offered on your reseller plans. They allow you to sell more than 400 domain extensions and TLDs.
Host Unlimited Websites: Each reseller plan comes with a limited number of cPanel accounts. You can host multiple websites from a single cPanel account. Also, you can add a sub-domain and add-on domain under this single cPanel account.
100% White Labeled: You can sell the web hosting service with your own brand name. MilesWeb's name won't be visible anywhere on the products.
100% SSD Storage: SSDs offer 20x better performance than HDDs. They use flash technology that helps to speed up your website performance.
Web Host Manager (WHM): WHM helps you to control a few very popular and high-resource consuming sites along with small sites. You can create and manage multiple cPanel accounts with unlimited websites, emails, etc. from WHM.
Control Panel: Control panel helps to manage your client's emails, domains and websites with an easy to use web-based interface. MilesWeb offers cPanel on Linux Reseller and Plesk on Windows Reseller plans. You are also allowed to monitor the disk space and bandwidth, suspend, unsuspend and terminate the accounts of the clients.
One-Click Installer: You can install more than 400 applications in just a few clicks with the one-click installer, Softaculous. Applications such as WordPress, Drupal, Magento, etc. can be installed.
Free Website Builder: You and your clients can create your own website without hiring a web developer or designer. The website builder tool makes it easy to develop a website. Simply select a theme, and drag and drop the elements such as content and images into it. You don't need to have coding or programming skills for doing this.
Datacenter Choice: You are allowed to select the data center location as per your preference. MilesWeb offers multiple data center locations in various countries.
Malware Scan and Protection: You can secure your website from the malware with this feature. They monitor your site continuously and if any threat is found it is immediately destroyed to avoid further consequences.
Email Service: You can send as well as receive emails from your domain. Just set up a professional business email id with their free unlimited email accounts. They offer browser-based webmail that supports POP3 and IMAP email accounts for accessing emails from anywhere.
Bottom Line
You can see that there is no feature left by MilesWeb to start your own reseller hosting business. Also, they take the complete responsibility of managing the servers for you and are always available to help you via live chat and email.
Also, if you aren't happy with their service, you can ask for a refund within 30 days of a service purchase. They ensure that your website remains always up by offering 99.95% uptime. All this is more than enough for your reseller hosting business. So, sign up for their reseller hosting instantly.