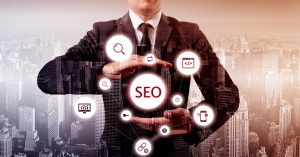 Google drives eight times more traffic than all social media networks combined. If you want some of that traffic, then focusing your marketing efforts on SEO is a good idea.
Unfortunately, hiring an expert to run your SEO campaign can be expensive. The good news? With all kinds of DIY SEO software at your disposal, it's never been easier to DIY SEO for your own website.
Read on to learn everything you need to do to get started with your DIY SEO marketing strategy.
Optimize Website for SEO
The first step you should take to optimize your site for search engines is to prioritize user experience (UX). Making your site easy to navigate does two things that the Google algorithm will love.
First, using clean navigation and sitemaps will allow Google's algorithm to find your website's pages. Google indexes pages by crawling the web, and it does so by following links. Having your navigation visible and using plenty of inbound links will help search engines discover all of your pages.
Second, prioritizing UX makes users a positive experience on your website. When searchers are able to find what they are looking for, the Google algorithm will see that and look positively at your website. Good design and a simple interface can go a long way to help you rank on Google.
Keyword Research
Once your site is optimized for UX, find keywords that your target audience is searching for. Using the right SEO tools should make this process simple. Look at search quantity and the competitiveness of keywords to determine relevant long-tail keywords to rank for.
Semrush, Ahrefs, and Moz are some of the best search engine optimization tools you can use to develop your SEO strategy. Dig into the data and create a list of keywords to target.
Build Content Around Keywords
Once you know what keywords you want to target, create high-quality content that will fulfill the searcher's needs. A good rule of thumb is to use Moz's 10x rule, which states that you should make content that is ten times better than what is currently ranking for the keywords.
Start by creating quality content that will satisfy the user. Don't keyword stuff—Google's focus is user experience, so make content for the user first, then optimize it for search engines.
Add the keywords you are targeting where they fit naturally in your 10x content. Also add them in places like your title, header tags, and alt descriptions on images. And add a meta description that will entice searchers to choose your page in the search results.
Generate Backlinks
Google looks at the credibility of a website when ranking web pages. Getting others to link to your site will tell Google that you are credible and worth showing in the SERPs (search engine results pages).
There are many tactics for backlink generation, but the best way to start is by creating content that is worth linking to. You can then use the DIY SEO software mentioned above to create a backlink generation strategy. Focusing on PR can also generate high-quality links to your content, which will boost your search rankings and website traffic.
DIY SEO
It's not necessary to spend a ton of money to show up in search results. With these DIY SEO tips, you can get started generating organic traffic today!
Loved this post. Check out our other blog posts on marketing and SEO to up-level your game.