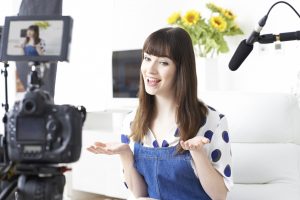 How to Create a Vlog That Will Explode Viewer Counts
Just hit record—isn't it amazing that this is all you need to do if you want to create a vlog? This is valuable information, considering YouTube is the second-most used social media platform in the world.
Don't let that give you stage fright. Instead, use it as motivation.
Creating a vlog is a wonderful way to tap into your creativity. It is a beautiful outlet that connects you to your fans in a fast and easy way.
In this guide, we will show you the ropes on how to make a vlog. Before you know it, you'll be an influencer!
Content
Content is everything. What you decide to put on the screen matters. Why are people going to tune in?
If you want to create a vlog, you'll want to create something of value. What are you delivering that someone can't find elsewhere? What makes you unique?
There are countless options these days. Create a vlog that is new and fresh. Have your viewers in mind when thinking of what you want to film.
The interesting thing is that even the most mundane videos are compelling just for the fact that they are being recorded. So just hit record and see where it takes you.
Consistency
There is something to be said about a consistent schedule. When viewers know when your videos are uploaded, they are more likely to watch.
When creating a vlog, think of the schedule you'd like. You could have different videos for different time slots. Think of it in the same way television shows fit into timeslots.
When you create a solid schedule, you are also more likely to commit and take things seriously. Even one video per week is better than zero. You can always build up from there.
Niche
What is the niche you are carving out? The YouTube market is supersaturated, so if you can create a niche for yourself, you're setting yourself up for success.
What are you passionate about? What are your strengths? What do you have to say?
Answer these questions and you will be golden. Knowing your audience is so important when creating a vlog. When you know your audience, you know what to deliver.
With this information, you open the flood gates on what you can produce. With enough viewers, you can then learn how to make money vlogging!
Quality
When first starting out, you don't need much; your smartphone will do. It is best to think of creating quality content over buying expensive equipment.
With that said, when thinking of how to make a good vlog, quality matters. Your audience will take note of the footage and audio quality. This is important if you want to take your blog to the next level.
For cameras, a DSLR is a great option for vloggers. They are lightweight and create stunning high-def videos. For on-the-go audio, lavalier mics are best.
Create a Vlog Today
There is no time like the present. Why not create a vlog today? It doesn't have to be Hollywood-worthy; the point is to just start.
Just hit record and go from there! You will love how it feels to spark your imagination and work with your creativity. The more you practice, the better you will become.
We can't wait to see what you come up with!
For all things tech-related, be sure to read more of our blog. Have fun shooting and exploring!