Should Google trust all links in guest posts?  Here it is what google has said
A senior  google webmaster trends analyst, John  Mueller recently said on twitter that links from guest blogging or guest contribution should be nofollowed. This type of messages not new from google but, whenever google talks about SEO, It makes  big discussion in SEO world.
Here is  what Jhon Mueller recently said on twitter regarding  links in guest  blog posts. Here important thing is all about links. If your providing any links in your content, then it should not be passing any link juice or signals. And should have rel-sponsored or nofollow attribute.  The links should be only way to send referral traffic only.
Here is the tweet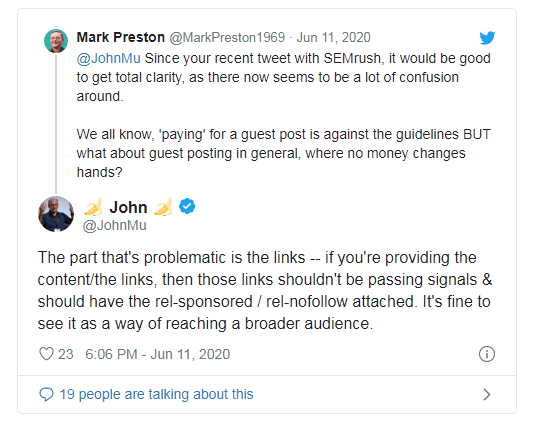 This is not a new statement google has already  said before. if we observe guest blogging history, Semrush  discontinued their paid guest blogging service feature in their tool.
Because it's against to Google guest blogging guidelines. Google said that Guest blogging is over in 2014 after  many warnings to SEO's and site owners regarding using of guest post as off-page link building tactic.
Some peoples may argue that only doing bulk guest blogging for dofollow links is against to google's guidelines. Might be? But one thing is sure that google clearly said use nofollow link attribute in all your guest posts even it is natural link.
Is this sign for penalty?  As per John Mueller quote, he is not aware of any plans to ramp up manual reviews of this. Google catches most of these algorithmic ally.
Google can count and ignore these links algorithmic ally. So doing large scale of guest blogging to acquire links is not much effective.  In another Mueller tweet, he said that  this practice has been placed for long time, Google's algorithms "have a lot of training data"  so it's likely the largest part of those links will be ignored automatically.
Should Google not trust these connections? Some in the SEO space feel Google isn't right about this approach. Some state that Google should believe links in  guest blog posts. Rand Fishkin of SparkToro said on Twitter, "Unequivocally differ w/this Google rep's take," including, "Truly? All commitments to a publication  not by a creator utilized there ought to have links 'nofollowed?' C'mon. Most publications  overlook this. They trust and embrace contributors  or they wouldn't publish 'em.
Does Google at any point realize what is a guest post and what isn't? That is the thing that Will Critchlow of Search Pilot and Brainlabs asked on Twitter. He stated, "It's additionally silly in light of the fact that there is truly no real way to tell from the outside whether an writer is a worker, a temporary worker, a consultant, or a contributor
Be that as it may, it works. Numerous SEOs state that links in guest blog posting despite everything work. It despite everything works in that Google still in some way  help you with ranking better in Google. Obviously, it is practically difficult to test this to be valid, since there are such huge numbers of factors with regards to ranking in Google search. Yet, some trust it works.
Why we give it a second thought. Unfortunately, when Matt Cutts in 2014 that guest blogging is done, stick a fork in it, it was finished. Which means, Google presumably took a firm position then that it can't believe links in guest blog post. So it utilized both manual and algorithmic strategies to not confide in those links anymore.
We, as SEOs, will in general discover something that attempts to help our sites rank better. We at that point stretch it as far as possible where it turns out to be overused to the point that it does not work anymore or Google needs to make a move since it is being manipulated.
It isn't simply Google. Yandex for a while overlooked all links identified with business inquiries since they were excessively manipulated. It didn't wind up coming about in SEOs halting building links, so they managed it different ways in anyway.
It seems that guest blogging for dofollow links is not a good strategy for SEO. In the event that you do it for traffic and brand building, let it all out. In any case, don't be disturbed or debilitated if those links are nofollowed by the publisher, Google is presumably previously ignoring those links anyway.
Let me know your thoughts regarding guest post for backlinks in the comment section. If you like this article, do share with your friends on social media like Facebook, Twitter and Instagram.