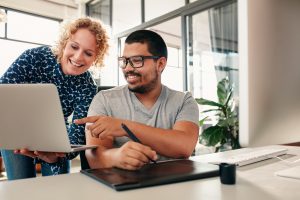 Approximately 1.8 billion people worldwide use the internet in some capacity on a routine basis. Many of these people are owners of businesses. Utilizing the power of the internet is crucial when trying to grow a business that will stand the test of time.
The more you understand about the internet for business, the easier it will be to use this valuable resource efficiently. The first step in harnessing the power that the internet has to offer is finding the right service provider in your area. If you are new to the world of business internet, you need to do your homework before assessing your connectivity and plan options.
Below are some factors to consider when attempting to purchase internet for your business.
Understanding ISP Connection Options
The main thing you need to familiarise yourself with before choosing an internet service provider is the connection options at your disposal. If you learn more about internet connectivity, you can easily assess which option is the right fit for your business. Modern internet service providers use four common methods to provide connectivity to their customers.
Fiber-Optic Internet
If you are mainly concerned with computing speeds, then opting for fiber-optic internet connectivity is a wise move. This connection uses microscopic strands of plastic and glass to transmit data. Availability is generally the main problem with this connection. It is only available to about half of the United States and is much higher than other connectivity options.
Digital Subscriber Line
When it was first conceived, Digital Subscriber Lines (DSL) were considered head and shoulders above the traditional dial-up internet connections offered at the time. Since this time, DSL has failed to keep up with the speed demands of modern consumers and business owners. The upload and download speeds with DSL are much slower than fiber-optic and cable.
Satellite Covers a Lot of Ground
The internet speeds offered by satellite providers are less than stellar when compared to other connectivity options. However, this connection type can be utilized anywhere in the world. This makes satellite a great option for businesses based in rural areas.
Coaxial Cable
Perhaps the most popular internet connectivity option on Earth is a coaxial cable. The connection speeds offered with cable are good, but there are problems. During peak hours, cable internet connections can become very slow.
Assess Your Internet Speed Needs
Before you start narrowing down the list of internet service providers in your area, you will need to gather information regarding the connection speed your business needs. If your business does a lot of video conferencing or file transfers, you need as much speed as you can get. Without a good internet connection, these daily activities will become frustrating and sometimes impossible.
However, if your employees simply trade emails and instant messages, choosing a bandwidth of around 500 Mbps is acceptable. Failing to gather this pertinent information before choosing an internet service provider can be disastrous.
Ask About Data Caps
If your business does use tons of bandwidth on a daily basis, you need to ask potential service providers about any data caps they have in place. These caps or bandwidth limits can really affect your daily operation. When a pre-determined bandwidth limit is reached, some service providers throttle down the speed.
This means things like buffering will become a near certainty. When these limits are reached, the price of your internet connection can increase. Getting information about these data caps ahead of time can help you eliminate some service providers from your list.
Find Out How Much Annual Downtime an ISP Has
As you start to research the various internet service providers in your area, you have to figure out what makes each one different. One of the main things you need to find out about a service provider is how much downtime they experience each year. You also need to figure out how customers are compensated for these outages.
Most of these providers offer credits and discounts as a way to make up for a company's lost productivity. However, there are certain service providers that offer no compensation for this inconvenience. Ideally, you want to choose a service provider that values their customers enough to right the wrongs they are responsible for.
Choose a Company That Is Known for Great Customer Service
When faced with an internet outage, business owners want a service provider that is on top of things. Finding out about the customer service a service provider has provided in the past is important. In most cases, you can find this information by doing a simple Google search of the provider's name.
If all you can find are negative reviews that cite bad customer service as a problem, you should avoid the service provider in question. Asking a service provider about technician availability is also a wise move. Using companies that can have a technician to your business at the drop of a hat can come in handy during tech emergencies.
Consider Contract Length
The best way to make sure you are getting the best deal on business internet services is by exploring your options annually. However, exploring these options will be pointless if you sign a lengthy service agreement with your existing internet provider. Rather than making this mistake and suffering for it in the future, you need to stick to shorter service contracts.
The industry standard for ISP contracts is around two years. There are many companies that offer yearly and even quarterly service agreements. Getting details about early termination penalties is also important when trying to choose the right internet service provider.
Choosing the Internet for Business Providers Is Not Easy
As you can see, there are many factors to consider before choosing an internet for the business provider. By using the tips in this article, you can find the right provider to fit your needs.
Looking for more information about using technology to grow your business? If so, check out the rest of the blogs on our website.