A German player triumphs over the Wimbledon champion with a score of 6-7 (3), 6-3, 6-4
as Daniil Medvedev secures victory against Andrey Rublev in a clean sweep.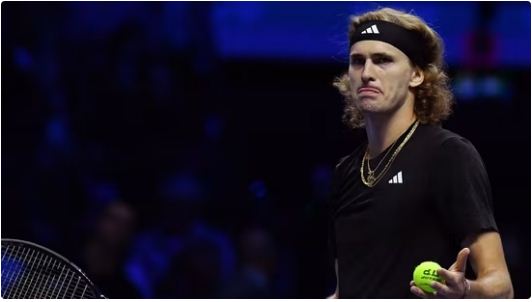 In Carlos Alcaraz's inaugural appearance at the ATP Finals in Turin, he faced defeat at the hands of Alexander Zverev. Despite missing the event last year due to injury, the 20-year-old's inconsistent late-season performance continued with a 6-7(3), 6-3, 6-4 loss in the opening round-robin match.
Alcaraz managed to rally from a break down to claim the first set through a tie-break. However, he quickly found himself trailing in the second set, and Zverev showcased greater composure as the match progressed, featuring impressive shots from both players.
Suffering his third consecutive defeat, Carlos Alcaraz experienced a setback at the hands of Grigor Dimitrov in the fourth round of the Shanghai Masters and a surprising loss to Roman Safiullin in his opening match at the Paris Masters.
Alexander Zverev, a two-time former champion at the event, has staged a remarkable comeback in the latter part of the season after a seven-month absence due to an ankle injury at the French Open last year. Despite a moment of concern when he twisted his ankle in the third set, Zverev downplayed any worries and expressed satisfaction after defeating Alcaraz, stating on Amazon Prime Video, "It's always nice to beat the best players in the world, and he's definitely one of them. It's special to win on this court again."
Zverev's next challenge is against Daniil Medvedev, who commenced his campaign with a routine 6-4, 6-2 triumph over Andrey Rublev. Medvedev, seeking redemption from his loss to Rublev at the same stage a year ago, showcased resilience by saving seven break points in his following service games to claim a one-set lead. In a 91-minute encounter, Medvedev secured victory as Rublev struggled with unforced errors.
Looking ahead, Rublev, set to face Alcaraz next, aims to rebound from his loss. Meanwhile, in doubles action, Britain's Neal Skupski and his Dutch partner Wesley Koolhof, the Wimbledon champions playing in their final tournament together, started their campaign on a positive note by comfortably defeating the Australian duo Rinky Hijikata and Jason Kubler 6-3, 6-4.