10 Best video editing software for vloggers
Vlogging has grown into one of the top favored content styles on the internet in the past few years. But as interesting and exciting as it sounds, there are several factors that a budding vlogger needs to consistently maintain in order to turn vlogging into a career.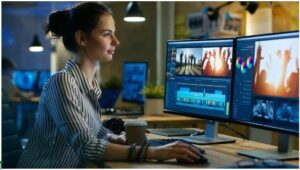 Suppose you are creating an interesting vlog about your recent visit to a series of birthday places in bangalore. Apart from using a good camera and proper lighting, it is vital that you pay attention to your video editing as well.  
In fact, editing is one of the main deciding factors for your vlogging channel's success. It is basically the soul of your content. 
Here is this article in which we have enlisted the 10 best video editing software that can help you create the best vlogs possible:    
vlogging editing software:
1. CyberLink PowerDirector 365 
The CyberLink PowerDirector 365 is user-friendly software and works well on both Mac and Windows OS. It is extensively used by vloggers, podcasters, YouTubers, streamers, and even filmmakers. Apart from the free version, the software also offers users a variety of premium plans that open up exciting advanced editing features.  
Here are the most notable features that are offered by CyberLink PowerDirector 365: 
Picture-in-Picture (PIP) Editing 

LUT color presets  

Motion tracking in videos 

Intuitive transitions  

Creative video templates 

Predefined effects  

Motion graphic titles  

Stock photos, footage, and music tracks for use (with a total of more than 8,000,000 options).  

Add animated images and other graphics to your video(s).  
Some of the disadvantages of this tool are: 
Videos remain watermarked in the free plan. 

Too many features overwhelm users easily. 
2. InVideo 
InVideo is an ideal video editing tool to create compelling Vlogs and business presentations. Using this video editing software, you are now ready to create high-quality videos to stand out in no time! 
Some of the super exciting features of this software are as follows: 
User-friendly interface 

Over 5000 customizable video templates 

Over 8 million free stock images and videos  

Great for beginners and professionals alike 

Automated voice-overs, speed controls, stabilization, etc. 

Your videos remain free of watermarks 

Automated text-to-speech features 

Up to 100GB of cloud storage 
The premium plan opens up various advanced video editing features that can turn around your entire video!    
3. Premiere Pro 
Premiere Pro can be used across all iOS, Windows, and Android devices. This software is best suited for agencies, professional video editors and creators, small businesses, and media and entertainment brands. After the first 7-day free trial period, users need to choose a premium plan if they want to continue using this software.  
Pros of using Premiere Pro: 
You can edit the audio, color, and graphics of your video(s) 

The tools can be used parallelly across all your devices 

You can export your video(s) in any recognizable format 

3D-editing options 

Multi-camera editing options 

HDR support  

You get access to stock photos, videos, graphics, and audio 

Automated reframing tool 
Cons of using Premiere Pro: 
Slow rendering of video(s) 

It has a complex user interface 

The platform crashes down often 
Though it has several features rolled into it, once you are able to understand how it works, you can get the most out of this software. 
4. Flixier 
Flixier works as a cloud-based editing software. It allows users to switch their devices during an ongoing video editing session, making it very popular. The premium plan of Flixier opens up several exciting features for users to spice up their vlogs. 
Some of the most exciting features offered by Flixier include:  
An approximately under 1 minute rendering time for all videos 

Your collaborators can click anywhere on the video to leave behind a time-based comment for you. These comments pop up as you edit that video, helping you assess your editing in a better way.  

Easily accessible Flixier cloud storage 
But along with these pros, there are a few cons that you need to consider before going with this option. Flixier's limitations include: 
Lesser number of ready-to-use video templates 

No stock videos 

Lack of proper color grading features    
5. WeVideo 
WeVideo is a cloud-based video editing software that finds immense usage amongst many educators, vloggers, gamers, and businesses.  
A few of the exciting features of this editing software are: 
You can now edit your videos in slow motion 

Simultaneously record videos from your webcam and screen 

Presence of numerous good-quality stock images, videos, and audio for use 

Exporting videos in 4K UHD resolution 

Unlimited cloud storage options 

Absence of a watermark on video(s) 
Some of the cons of this video editing software are: 
Even the paid version offers a limited collection of stock photos, videos, music, and audio effects 

Availability of only a few ready-to-use video templates (available under premium plans) 
WeVideo can be operated both as a free tool as well as a paid one to generate high-quality videos in no time!    
6. Filmora 
Nowadays, Filmora has become a widely popular video editing tool among beginners and semi-professionals. It works both as an online editing platform as well as a mobile app.  
While Filmora has several attractive features, the best ones are: 
It has a drag-and-drop interface 

Availability of stock music and background tracks 

Importing and exporting video(s) in various formats 

Supports 4K video editing seamlessly 

Video and audio stabilization of your recorded video(s) 

Intelligently detects the scenes in your video(s) 

Color tuning in your recorded videos 
Some of the cons of using this video editing software are: 
The occasional crashing of software 

Improper application of transition effects 

Removal of the watermark from videos is only possible with the premium plan 
After the free trial period, users can sign up for the paid version to unlock advanced editing features!   
7. Lightworks 
Lightworks is largely used by various filmmakers and broadcasters to edit their videos. It is software that works on most of the known operating systems and is a great help for professional video editors! 
Some of the key features of this video editing software are as follows: 
Animated text effects 

Availability of 2D and 3D titles 

Stock video and music powered by Pond5 

Multiple-camera editing options  

Variety of in-built presets 

It supports video in almost every known format 

Color correction options  
Some of the disadvantages of this video editing software are: 
Inability to export HD videos in the free plan 

Lack of flexibility in the free plan 
Though available as both free and paid software, it certainly works better in the latter option.   
8. Apple iMovie 
Apple iMovie is rated as one of the best video editing software for Mac devices and is known to offer editors an immersive and seamless experience. 
Some of the noteworthy features of this editing software are: 
It works as free software with every Apple gadget 

It offers an easy-to-use interface to users 

Video stabilization of your recorded video(s) 

Enhancement of the color settings of your video(s) 

Video transition effects  

Allows video to be edited in 4K UHD resolution 
One of the disadvantages of this editing software is: 
Lacks the availability of complex features to edit minute factors of your video(s)   
9. Adobe Premiere Rush 
This amazing video editing software allows users to edit videos across multiple devices.  
Some of the noteworthy features of this fantastic video editing software are: 
Enhanced audio refinement options for your video(s) 

Allows the creation and implementation of the picture-in-picture (PIP) effect 

Inculcate great transition effects in your video(s) 

Modify or change the aspect ratio of your video(s) 

It offers many creative video templates to choose from, alongside allowing personalization of the same 
Some of the disadvantages of using Adobe Premiere Rush are:  
Lack of video effects 

Payment is required for all non-Adobe Creative Cloud users.  

Limited transition effects   
10. DaVinci Resolve 
DaVinci Resolve works well on both Windows and Mac platforms and is a great choice for editing your videos. Almost every basic video editing feature that you need to make your videos look professional is offered free of cost by DaVinci.  
Some of the free video editings features that you can try out are: 
Animation effects 

Color grading 

Insertion of texts and relevant effects 
While most of the video editing features are offered free of cost, users who wish to edit 4K videos, however, need to go for the paid option. Once you are all set with the usage of DaVinci, you will find how amazingly intuitive this software can be!  
Conclusion
The right editing software can change the entire game for vloggers. Once you have picked your preference out of these, master the features to such a degree that you know your way around the program like the back of your hand. Only with this level of expertise, you will be able to develop your own editing style that will set your content apart from other vloggers. I hope "10 Best video editing software for vloggers" helped you. If you have any doubts, Please do comment in the comment section.